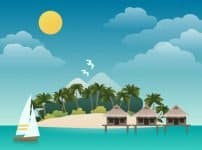 A person misplaced at sea is discovered on an island 20 years later.
The sailors that discover him are stunned to see three giant buildings on the island.
They ask the person why he constructed the buildings.
"This primary constructing is my home," he says. "I used to be capable of arrange a crude aqueduct to create some type of indoor plumbing".
The sailors are impressed and ask in regards to the second constructing.
"This second constructing is my church," he says "I'm a Christian and my religion is essential to me".
The sailors nod in understanding and ask in regards to the third constructing.
"Oh, that one," the person says.
"That's the church I USED to go to".