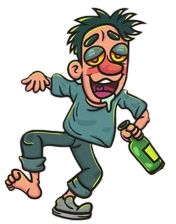 A very inebriated man walked right into a bar and, after staring for a while on the solely girl seated on the bar, walked over to her, positioned his hand up her skirt and commenced fondling her.
She jumped up and slapped him foolish.
He instantly apologized and defined, "I'm sorry. I assumed you have been my spouse. You look precisely like her."
"Why you drunken, nugatory, unbearable son of a BITCH!" she screamed.
"Humorous," he muttered, "you even sound precisely like her."