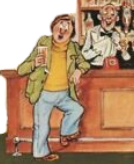 A person was sitting in a bar and observed a gaggle of individuals utilizing signal language.
He additionally observed that the bartender was utilizing signal language to talk to them.
When the bartender returned to him, the person requested how he had discovered to make use of signal language.
The bartender defined that these had been common clients and had taught him to talk in signal.
The person thought that was nice.
A couple of minutes later the person observed that the folks within the group had been waving their arms round very wildly.
The bartender regarded over and signed "Now lower that out! I warned you!" and threw the group out of the bar.
The person requested why he had completed that and the bartender stated, "If I advised them as soon as I advised them 100 occasions – NO SINGING IN THE BAR!"