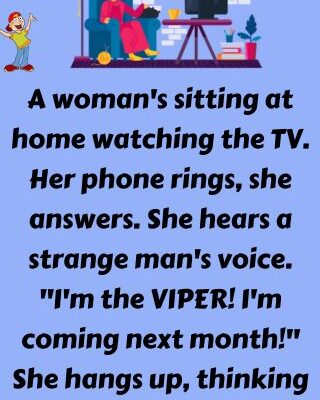 A girl's sitting at residence watching the TV. Her telephone rings, she solutions. She hears a wierd man's voice.
"I'm the VIPER! I'm coming subsequent month!"
She hangs up, pondering it was a prank, and forgets about it. Just a few weeks go by and she or he will get one other name:
"I'm the VIPER! I'll be there tomorrow!"
Now she's anxious. She calls the police and tells them. The following day there's a squad automobile throughout the road. Her telephone rings.
"I'm the VIPER! I'm coming for you!"
She runs throughout the road and tells the ready officers. They inform her to maintain calm and return inside.
Fifteen minutes later there's a knock on the door. She opens. There's an previous man ready outdoors with a bucket and a squeegee.
"I"m the VIPER! I've come to VIPE the VINDOWS!"